A hint of pink, or even all-over pink, will update your wardrobe in an instant. Try our Vibe and Bliss tees for a perfect starting point.
The High Street (if we were able to visit it), magazines and fashionistas are mad for pink this Spring/Summer, and why not, it's literally J-O-Y-F-U-L.
Don't be scared, it comes in a million edible shades that are not Jordan.
Bubblegum, raspberry, flamingo, magenta, fuschia and shell, or that unnameable shade that's simply leaving us hot-pink, flushed and blushed at Harry's Watermelon Sugar kind of pink.
Be brave!  Be punchy, bold and vibrant or be subtle and just cherry blossom tinged. A little fun is well overdue and the best place to bring that joy is your wardrobe.
Want another pink plus? Pink flatters our skin and highlights the golden glow that the summer will bring.
Team your tee with some Zara wide-leg coloured jeans – these apparently must-have jeans have been in every magazine which is why, as I write, they're sold out, but back in stock soon. Cool the look down with Bliss in Blue.
Or go for a skinny (sorry, Millennials), British brand Holland Cooper have a so-called Jodhpur Jean on sale is sizes 6-16 in a soft pink – ultra skinny, high waisted, faux pockets (why?) but made from an extra contouring, sculpting fabric. 
Reiss have a superb collection of pink this season. Return to the office in style with this slim fit tailored Miller suit (see top image) twinned with a tee and some trainers or heels.  Change the tee, change the suit.  Vibe in grey will tone the look down, Bliss in white just pops. Any combination would look particularly fabulous with darker skin tones.
Reiss's pale pink, beautifully tailored Ember blazer will pair perfectly with any number of things, taking the most basic up a notch.  Team with Vibe in white and a pair of your favourite jeans for a relaxed summer look perfect for an outside lunch for six.
This pale pink boucle coat is currently on sale at White Stuff – I'd pair with a tan heeled ankle boot and belt, a lean jean and a Breathe tee – it's perfectly suited to our current weather. The sophisticated skin tones of the T-shirt will work really well with the soft pink and would give a softer option in terms of T-shirt twinning. The dark green lining of the coat adds an extra dimension.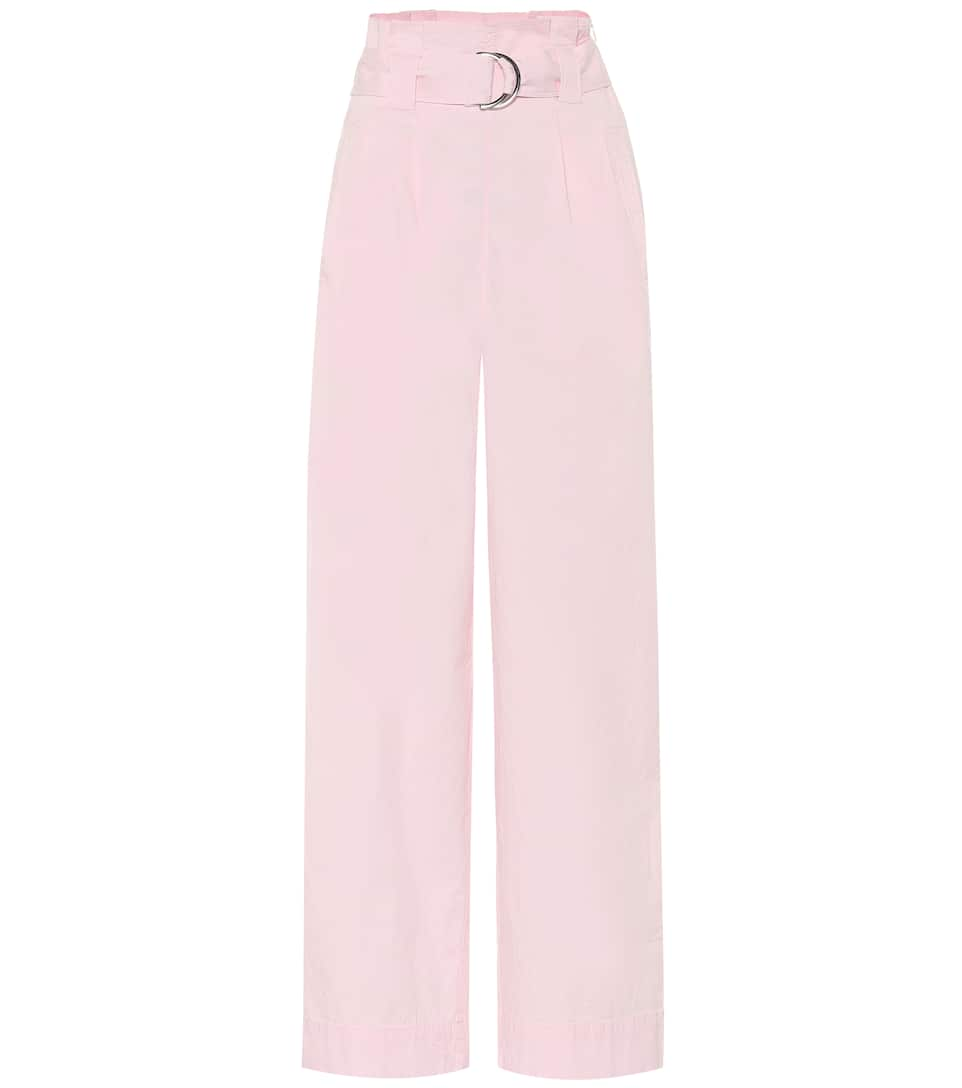 Also on sale are Ganni's wide-leg paperbag pants in a really easy pink.  Super-flattering on the waist, these currently have 40% off and are still available at MyTheresa in most sizes.
Try a tee with a fitted, knitted skirt. Figure-hugging yet modest this rose pink skirt from Zara would team beautifully with Vibe in any of its three colours and would work equally well with flats or heels. This kind of skirt is incredibly flattering for most body-types which I love. It's also a great Spring skirt - long enough to be warm and a nice change for those of us who've been stuck in joggers for ever!
If you can't bear to go full pink, try an accessory.  
British shoe brand Hugs & Co have a hot pink tasselled driving loafer (which sounds so old-fashioned I can't bear it) which is basically the UK version of a Tod's loafer but at a third of the price.
Or why not try Dida Ritchie's Lune two-tone pink flatform suede espadrilles available at Wolf & Badger. So pretty.
Wolf & Badger also have a useful fuchsia leather shopper – handcrafted from Italian leather with an inside zip pocket. Super useful.
For those who want to splash the cash, there's Isabel Marant's oversized Warden tote which you might be able to fit your children in.  Perfect.
Want to treat yourself? Invest is a pair of Monica Vinader sapphire huggie earrings – like a miniature rainbow, these tiny hoops hug the ear and could be worn everyday, with everything. Available in 18ct gold-plated vermiel, they come with Vinader's recycled gold and silver credentials using 100% recycled materials and reducing CO2 emissions by over 60% and have a guarantee of responsible manufacturing. For those of you with allergies, gold vermeil is sterling silver based and coated with gold that is at least 2.5 microns thick (that's thicker than traditional gold-plating) so you should be allergy-free.
I could go on.  I shan't, except to say - invest in a tee, invest in something that catches your eye and enjoy the pleasures of pink.