Let's get things straight from the start. I LOVE A DUNGAREE! Take them into summer with splash of Lemonpeel joy.
My longtime favourites are dug out every summer and are supersized, clown dungarees in a now faded navy cotton. I adore them. I think I paid £8.99 for them.  They're super light, comfortable, E N O R M O U S and make me feel 'cute' – not a word I'd use to describe myself often.  More importantly, they make me happy. 
Slip a tee underneath, a trainer down below a rolled-up cotton cuff and you're done. Plus… pockets.
Quite clearly, they're destined to be one of the staples of this summer because they're all over the place. Yay! Why am I so excited?  Because they need a T-shirt to make them work – preferably a Lemonpeel T-shirt.
Here's my roundup of the best dungarees out there for 2021 – designed with style in mind and guaranteed to make you look like an adult, not Super Mario, a toddler  or a member of Dexy's Midnight Runners.
Some tips - according to Vogue, these are the things to note when sourcing your dungaree:
Extra zips or buttons down the front.
Too high a back (makes bum look big and legs look short).
Not too tight in the leg or too baggy.
Flared dungarees demand a heel.
I've ignored Vogue and am currently OBSESSED with my Laurie Jumpsuit from Plumo.  I would wear these oversized lovelies with a fresh Lemonpeel tee every day for the rest of my life! I love them. 
Of course, you could go for a hyper-pricey style from Stella McCartney, Celine or Alexa Chung (upwards of £500!), but that would be ridiculous. They are, after all, made of denim - not gold. However, please note Lemonpeelers - they sell out despite the stupidity of the price. Let's look at the more affordable end of the market.
As one might expect, Gap has a good basic pair in a classic indigo at £54.95.  
Lucyandyak have dungarees in every possible shape and size.  Look beyond the Grayson-Perry-on-an-extravagant-day madness of some of them and you will find some great value, well-made core shapes. 
Seventy + Mochi's Suki Dungaree is particularly well cut (£120).  It's got adjustable straps and even a hem tab that can change the leg shape.  They have good sustainable heritage and describe themselves as a consciously kind denim brand which uses recycled materials. 
LornaRuby.com has a gorgeous pair of Bellerose Petra Overalls in cotton but, at the time of writing, only the small was left in stock.  Here's hoping they will restock soon.
To my mind, NRBY has one of the best simple pairs on the market – the Cameron jersey dungaree in black or navy. https://nrbyclothing.com/collections/jumpsuits
Anthropologie has a whole page full, including leather and tie-dye (they look better than they sound).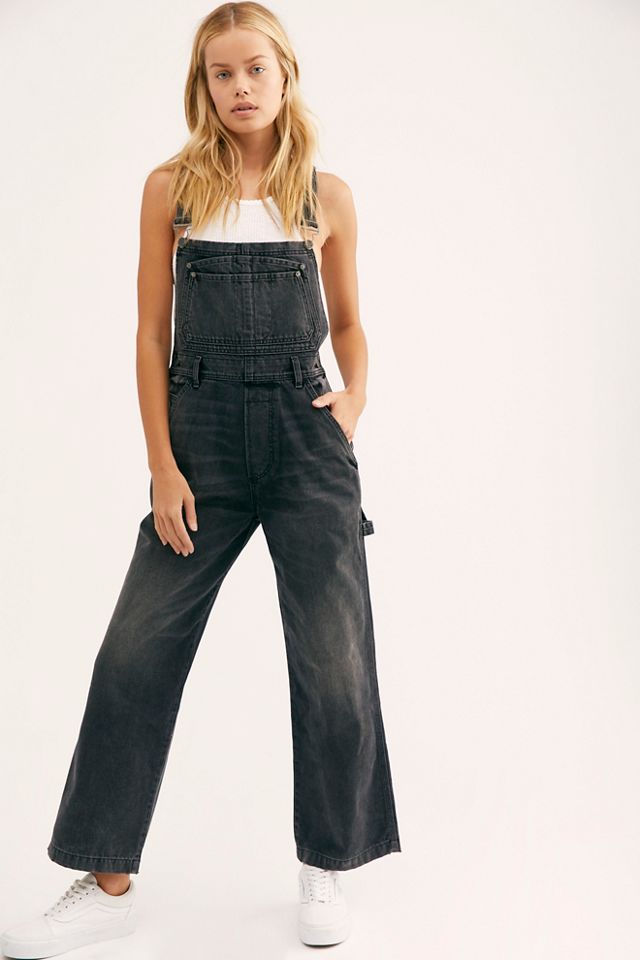 Free People also has a great selection with the boyish Kenny Overall as a good slouchy option. 
Here's to some casual, dungaree-based cool! Enjoy.